About Us
Formed with a vision to take technology led quality education at affordable cost to the masses, SumConcepts is an organization with strong social motive. We strongly believe that our projects, services and products have to be socially relevant to be able to create a sustainable organization with multifold growth.
Inspired by short meetings with Bharatratna Dr. APJ Abdul Kalam, the promoters launched India's first Comprehensive Knowledge and Educational System for home followed by host of products for schools and educational institutes designed and developed by a team of experts that include psychologists, teachers and career counselors. Lakhs of students thru thousands of schools use various innovative products offered by Kompkin in eLearning space and aspire to climb the ladders previously unimagined and look forward to opportunities that never existed for them before.
As of March 2018 Kompkin reached out to 15000 schools benefitting close to 2 Million students.
Quality Policy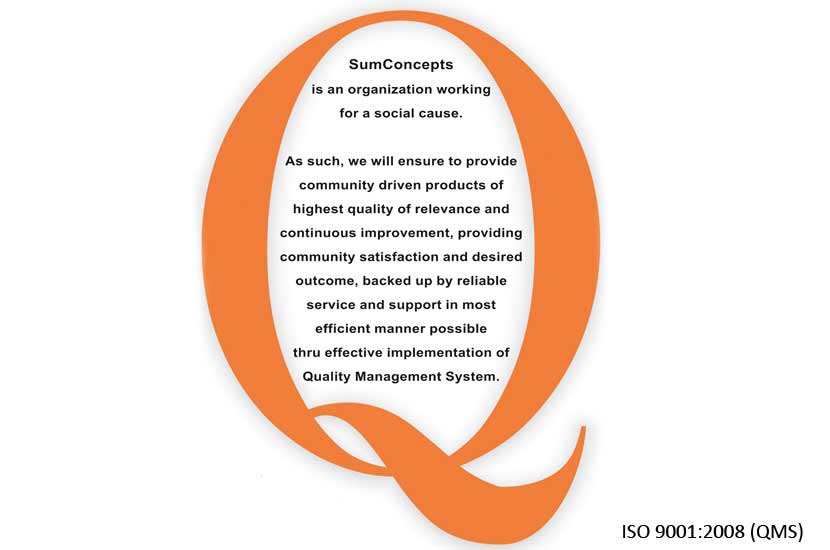 Teachers' Testimonials
Last year Std. 10 result was 71% while this year it has jumped to 82%. Students find Math and Science subjects difficult to study. Hence they all studied these subjects through eLearning classroom which led to a remarkable improvement in the passing percentage.

Mrs Sharmila Salunkhe, Shri Katoba Dive High School, Dive-Saswad
With the help of Kompkin e-njoy learning the complex concepts in science are understood easily. Since understanding of these subjects has increased, absenteeism has come down heavily. 40% of children used to be absent in school earlier but now as many as 80 to 90 percent students are present in the class. We are sure that this e-learning classroom will bring tremendous change in the education system.

Mrs N. P. Pawar, Mahatma Gandhi Vidyalaya, Khanapur-Haveli
This year our school posted 98.54% result. 7 students have scored full marks in Maths while 2 students got full marks in Science, 12 students have even scored marks above 90%. We made use of Kompkin's e-learning software intensively during this year for 10th std. students. They could extensively revise on this software. This is very useful software which has helped our school get such excellent result.

Principal, Laxmi Narayan Malu School, Jaisingpur
Students take 80% of education with the help of their eyes. They like to see things more than merely listening to it. With RDEP, students can now handle computers properly. This helps the students to enhance their knowledge.

Mrs Manisha Pawar, Rashmi English Medium School, Phulenagar, Pune
Kompkin's eLarning software is advantageous and effective for students as it includes various methods of study patterns. Visual images are a big help to remember things which improves their observation skills and grasping power.

Mr Gore, Gramprabodhini Vidyalaya, Salumbre
We feel that Kompkin e-Njoy learning is a revolution that aims to contribute sustainable change to teaching and learning. For example while learning the topic of "Volcano" thru this medium, it is understood better when students see it visually erupting on screen rather than looking at a diagram in the book.

Mr Shivaji Navgire, Shivbhumi Vidyalay, Khed-Shivapur
Tests are conducted in a fun way and evaluation is given through games which results in increasing confidence of children. Retention power also increases tremendously.

Mr Shivaji Navgire, Shivbhumi Vidyalay, Khed-Shivapur
Due to Kompkin's eLearning, most of the irregular students come regularly to school. They are very attentive in the class while this program is running. Parents too liked like their children to learn thru this innovative way.

Mrs Sangeeta Shete, ZP Primary School- Londhemala, Manchar
Due to kompkin's eLearning, fear of studies has reduced tremendously amongst students. RDEP has proved to be very useful for slow learners and shy students.

Shri Rajendra Jagtap, Maharshi Karve Stree Shikshan Sanstha, Kamshet
We are thankful to Kompkin and Rotary club for donating E-learning software due to which the result of std 10th is 86% this year which is remarkable. We feel confident of further progress of the students.

Principal, Abasaheb Atre High School, Somwar Peth, Pune
---
Creativity is the key to success in the future, and primary education is where teachers can bring creativity in children at that level.

A. P. J. Abdul Kalam
Education is not the learning of facts, but the training of the mind to think.

Albert Einstein
Education is the best friend. An educated person is respected everywhere. Education beats the beauty and the youth.

Chanakya
Education is the key to unlock the Golden Door of Freedom.

George Washington Carver
Right education should help the student, not only to develop his capacities, but to understand his own highest interest.

J. Krishnamurti
Live as if you were to die tomorrow. Learn as if you were to live forever.

Mahatma Gandhi
1. The best brains of the nation may be found on the last benches of the classroom.

A. P. J. Abdul Kalam
Education is the most powerful weapon which you can use to change the world.

Nelson Mandela
The highest education is that which does not merely give us information but makes our life in harmony with all existence.

Rabindranath Tagore
Education is the ability to listen to almost anything without losing your temper or your self-confidence.

Dr. S. Radhakrishnan