SUSTAINABLE-MEASURABLE-VISIBLE
CSR (Corporate Social Responsibility)
Most effective way to impact where it matters
Various reports have indicated that less than 10% of the revenues allocated for the underprivileged reach the beneficiaries. The administrative and aligned costs eats up unimaginable chunk of our taxes. CSR (Corporate Social Responsibility) is the best way to deploy the funds in toto where it matters. The reputed Indian Corporates have been following the CSR (Corporate Social Responsibility) practices decades before it became mandatory. The Tata Companies, for example, made community service as its inherent part of business more than a century ago The Corporate sector has long realized that the best way to contribute to the society is to educate and sensitize the future generation. The current environment and the measures taken are not sufficient and effective to mould the angels in remote village schools. That's where technology intervention becomes the best tool for progressive CSR teams and rural education made an impact in people's minds.
Current scenario as per surveys by reputed NGOs:
59% of class V students cannot read class II text book (up from 43% in year 2010).
47% of class V students cannot do simple two digit subtraction (up from 29% in year 2010).
74% of class V students cannot do simple division (up from 64% in year 2010).
57% of Indian schools have 3 teachers or less.
Quality and Quantity an issue.
Students poor in basic reading and maths skills.
Low motivation–Low Confidence.
Empower Village Youth through Education.
Technology driven quality education at affordable costs to masses.

Kompkin, the best solution for Education under CSR
Kompkin has been actively engaged with CSR teams across sectors since more than 5 years. Owing to our experience working with dozens of reputed organizations we understand the specific needs to Corporate sector (Sponsors) as well as beneficiaries (Schools-Teachers-Students). eLearning in Marathi medium has been welcomed by most corporate since rural education thrives in vernacular subjects.
The CSR Sales team can, on occasions, advise it's clients on best practices followed, the documentation and reporting mechanism, filing the reports for audit, impact assessment, public image initiatives and so on. We ensure due visibility of our generous sponsors within the community in discussion with the CSR teams.
The Development team continuously interacts with thousands of teachers and students to understand the needs specific to the class it caters to and develops its products in line with requirements and emerging needs. The development also takes care of computer literacy levels of these schools and the products are designed accordingly.
The Service team needs the geography of these locations by heart and provides on-site support and upgrades promptly. Considering the nature of this project, support at remote locations and knowledge of territories is more crucial than the software and equipment. That's why our projects are sustainable-measurable-visible.
Concept on which Kompkin works
Classroom Training:
Designated classroom will have an independent set of Computer and Projector with UPS back up.
Each Computer will come with preloaded software related to Maharashtra State Board syllabus in English and Marathi mediums.
Teachers will teach the students with the help of this software and elaborate the concept.
The projector with speakers will ensure that all the students in the classroom are able to view and listen to the contents.
Teachers can pause, rewind or forward any of the chapters till students have fully grasped the subject.
Teachers can also take tests once the chapter is over

So how does the project impact where it matters
Advantages to Students
Reduction in absenteeism.
Reduction in dropouts.
Enhances conceptual learning thru visuals.
Increases the confidence among students.
Makes students more expressive – interactive.
Improves overall scores of students.
Offers students self-learning tools.

Advantages to Teachers
Support teachers in their function without diluting their importance.
Animated contents based on State board school curriculum
Supports teachers in Continuous Comprehensive Evaluation (CCE), mandatory requirement for schools.
Make teachers acquainted with latest technology and computer usage.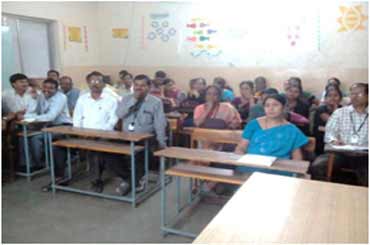 Advantages to Schools
Easy to maintain and upgrade.
Simple to manage and operate.
Cost effective and easily scalable.
Proven contents syllabus exactly in line with state board.
No recurring costs of internet connectivity.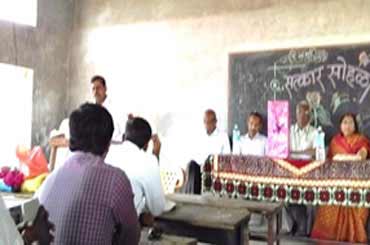 Advantages to Donors
Building goodwill for donor in the community.
Proven Program with far reaching impact.
Plaque in each school recognizing donor contribution.
Wallpaper and Launch screen in the software recognizing donor contribution.